11:11 (Beautiful Patience)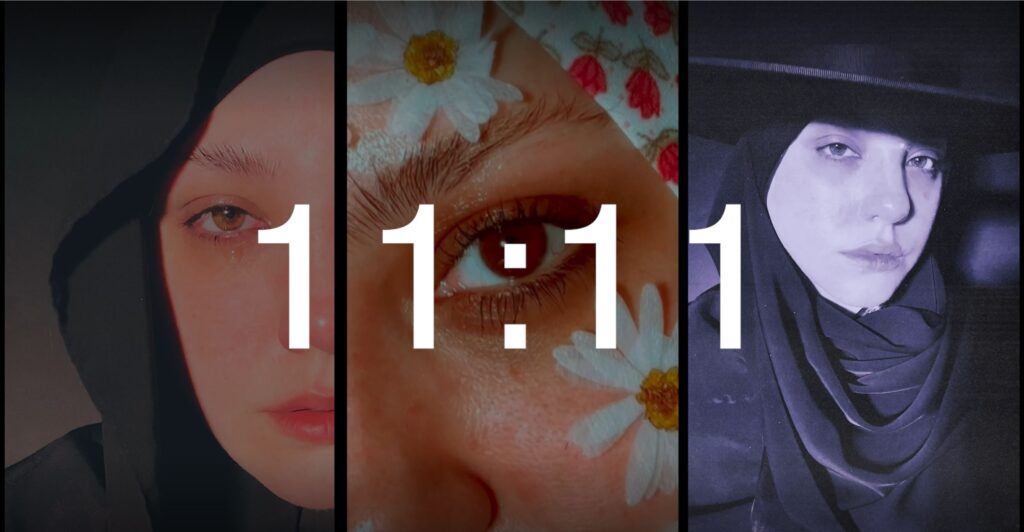 For her Residency at the Shangri La Museum of Islamic Art, Culture & Design, Sandra Saenz is exhibiting a series of short-form video works. Titled, 11:11 (Beautiful Patience) these video performances encapsulate an emotionally charged sequence of the artist's experiences within the beauty industry while staying truthful in her faith-driven journey. 11:11 (Beautiful Patience) recounts the embrace of the truest self and freedom in overcoming inner self-doubt, perceptions, and stereotypes experienced by Saenz.
Why makeup artistry in the museum? Our answer is always simple, it is art.

It is a form of artistic expression that so many of us practice daily – sometimes used to create an elevated version of the self, to enhance self confidence, to create a character, to make a statement, to be political.

Cosmetics serve as a way for us to truly be in touch with color, light, line and shadow at a very personal level – yet the industry producing these mediums also comes with so many loaded rules and requirements on how we should be using these pigments and what we should be willing to pay. This practice is so incredibly tied to visual and performing arts, yet rarely gets its recognition due to its designation as commercial, craft, or simply being written off because of assumptions of gender and women.

Why makeup artistry in the museum? Because it is art and artists like Sandra Saenz are leading the way to resetting so many assumptions and limitations and leaning into the beauty in power and creativity.

Kristin (Kris) Remington, Curator of User Experience, Shangri La Museum of Islamic Art, Culture & Design
Doris Duke herself was a champion of beauty and we couldn't imagine a better artist than Sandra Saenz to be an Artist-in-Residence at Shangri La to keep us curious and inspired about how cosmetics as a medium help us to change perceptions. There is power in women, beauty, and creativity.
11:11 (Beautiful Patience) is now on-view at Shangri La and will also be made available online on Shangri La's website and socials – with behind-the-scenes and extended discussions on each individual piece on our Shangri/LOG during Hispanic Heritage Month September 15 – October 15, 2023.
Through perseverance and passion, I carved a niche where my two worlds harmonize. From the vibrant rhythms of Latino culture to the serenity of Islamic teachings, I've stitched together a unique narrative. My story is one of resilience, bridging divides, and proving that space can be crafted where none seemed to exist.

Sandra Saenz, Shangri La Artist-in-Residence, 2023