Illuminating the World of Conservation Technicians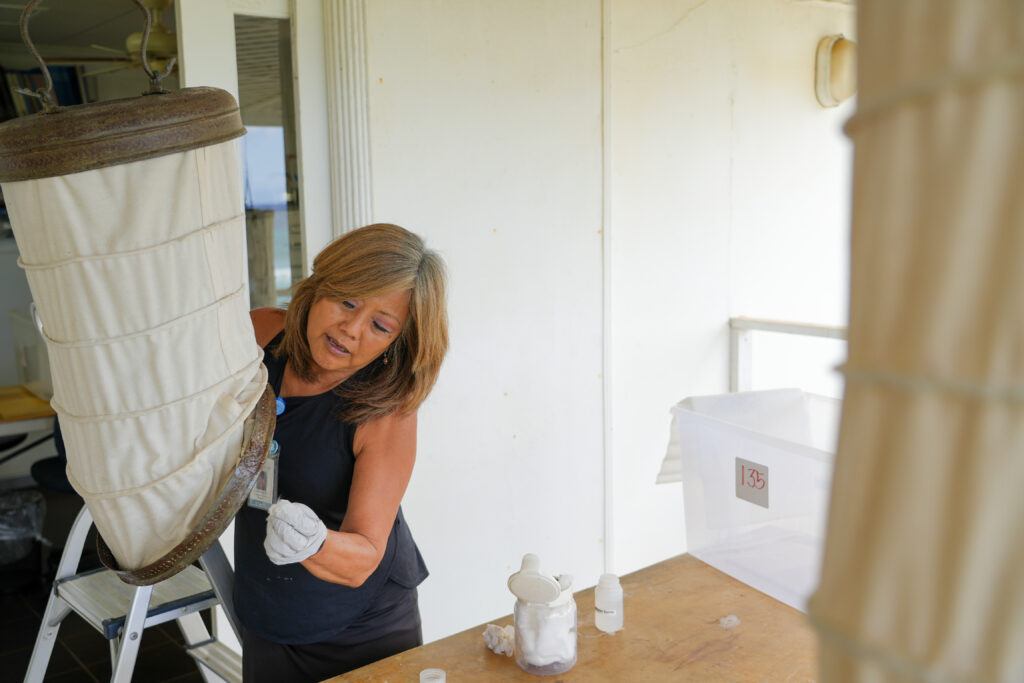 "How do you clean that?!" is a question we are often asked when visitors come to Shangri La. Hidden behind the captivating collection items and history lie the tireless efforts of dedicated museum professionals like Lynne Najita, the "Conservation Technician" (though we call her the Conservation Magician). Lynne is responsible for meticulously conserving and cleaning the museum's collection throughout the year. Salt and metal definitely don't mix…so there's a constant conservation schedule to ensure the collection doesn't get too salty from all the saline aerosol deposits and ocean spray.

Today we are taking you through the process of how Lynne takes care of our hanging lamps in the museum's Banyan Courtyard:
Step 1: Getting off the Hook
The first step of conservation is often deinstallation (taking artworks off display). Lynne and Galleries & Collections Coordinator, Jeremy Pang, whisk away the lanterns (wearing art handling gloves of course), and bring them up to Shangri La's Conservation Lab.
Step 2: Laundry Day
Each lantern has a cloth cover that allows the light to shine through. The cloth is taken off and washed which removes dirt or debris that might have accumulated over time.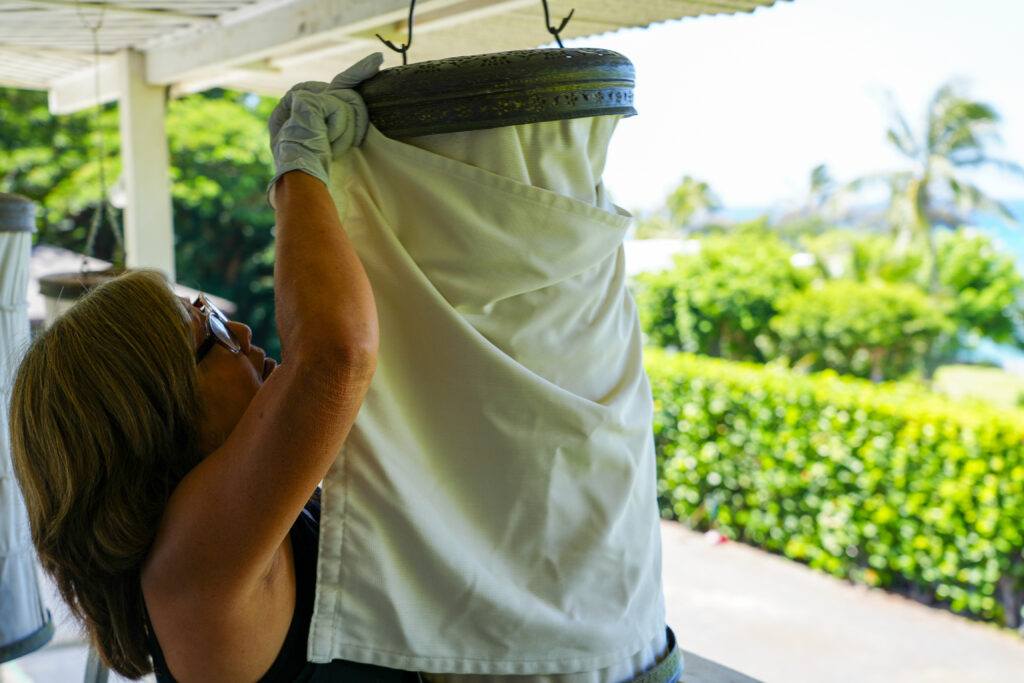 Step 3: Routine Check-up
Lynne becomes the lantern whisperer, inspecting each lantern for any stitch issues. "Don't worry, little lantern, I'll stitch you up good as new!" she assures them. We don't know if this an official conservation practice, but we are assured knowing all artworks receive some words of affirmation and encouragement during treatment.
Step 4: Lantern Spa Day!
After the artwork inspection, the lanterns head to the spa's mineral bath for a relaxing soak. Actually…it's more like a mineral spirit rubdown. Using mineral spirits cleans the lamp's metal surface and removes the existing layer of protective wax. Over time, this wax can become embedded with dirt, salt deposits, and yes, even some bird droppings (oops!).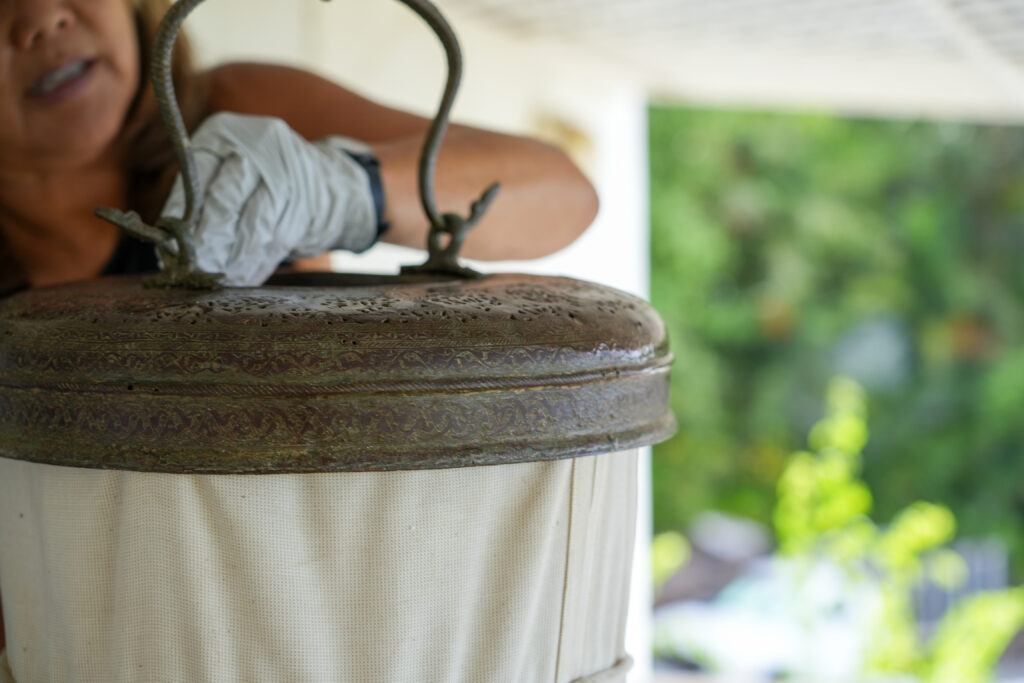 Step 5: Time for Bowling
Surprise, surprise! The conservation team's secret weapon to protect the lanterns' metal elements is none other than bowling alley wax! Now we know where all the wax ends up after fierce bowling matches at Aiea Bowl.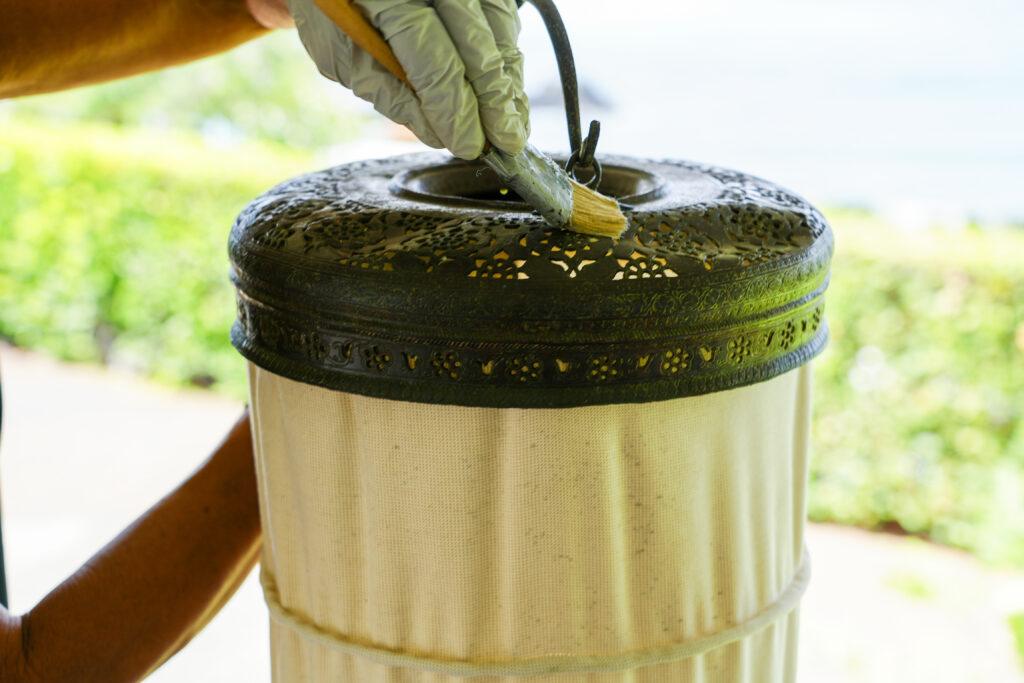 Step 6: Getting Glam!
After their spa day, a fresh layer of wax, and a clean fabric cover, the lanterns are ready to return to the red carpet (or in this case, the Banyan Courtyard) looking absolutely fabulous!
Step 7: Shining Stars
Finally, Lynne and team lovingly re-install the hanging lamps and re-connect them to the fixtures!