Ubisoft Partners with Shangri La to Bring Images from the Museum's Collection to Assassin's Creed® Mirage.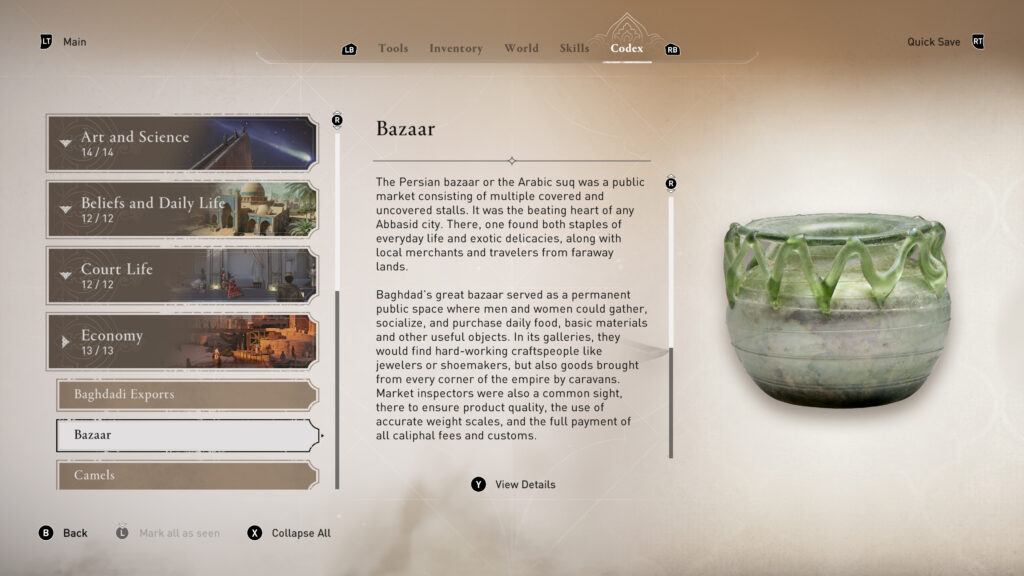 Shangri La in a video game?! The Shangri La Museum of Islamic Art, Culture & Design, a center of the Doris Duke Foundation, was excited to partner with Ubisoft on their latest title, Assassin's Creed Mirage, which releases today (October 5, 2023). Images from Shangri La's collection will be part of an the "History of Baghdad" feature, which delivers curated information to players on the history, art, and culture of ninth century Baghdad and the Abbasid Caliphate.
Alongside Shangri La, three other partner museums provided images of their own collection:
– The David Collection, a museum in Copenhagen with one of the most comprehensive collections of Islamic art in the Western World.
– The Institut du Monde Arabe in Paris, which hosts a museum and a library entirely devoted to the arts and cultures of the Arab World.
– The Khalili Collections, assembled by Professor Sir Nasser D. Khalili and containing some 35,000 works of art.
"It's incredible to think about the transformative impacts the Assassin's Creed franchise has had on gamers and their relationship to history and art history," said Kristin Remington, Associate Curator of User Experience, Shangri La. "Games have the power to change our relationships with each other and inspire us to create better futures."
"We are delighted to partner with Ubisoft and the Assassin's Creed franchise to provide millions of people around the world the opportunity to interact with and learn from objects that bring to life Islamic history and culture. In a world where gaming is a larger industry than movies and music combined, this partnership is demonstrating that we don't need to choose between entertainment and enlightenment," said Sam Gill, President and CEO, Doris Duke Foundation.
Shangri La is honored to have been a part of a game focused on celebrating the arts and culture of Baghdad in the 9th century. In addition to working with museum collections, Ubisoft worked with a team of incredible advisors including: Dr Glaire Anderson, expert in Islamic art, and the Digital Lab for Islamic Culture of the University of Edinburgh; Dr Vanessa Van Renterghem, specialist of Abbasid Baghdad; Dr Ali Olomi, advisor in Islamic culture and Dr Raphaël Weyland, expert of Islamic history who joined Ubisoft for the game's creation; were critical for the recreation of Baghdad in Assassin's Creed Mirage and the "History of Baghdad" feature.
Will you be able to spot the artworks from the Shangri La collection in the Codex? Or have you seen these artworks on a recent tour of Shangri La? We'd love to hear when you find us in-game or IRL (in-real life) by tagging us @hi_shangrila and @assassinscreed.